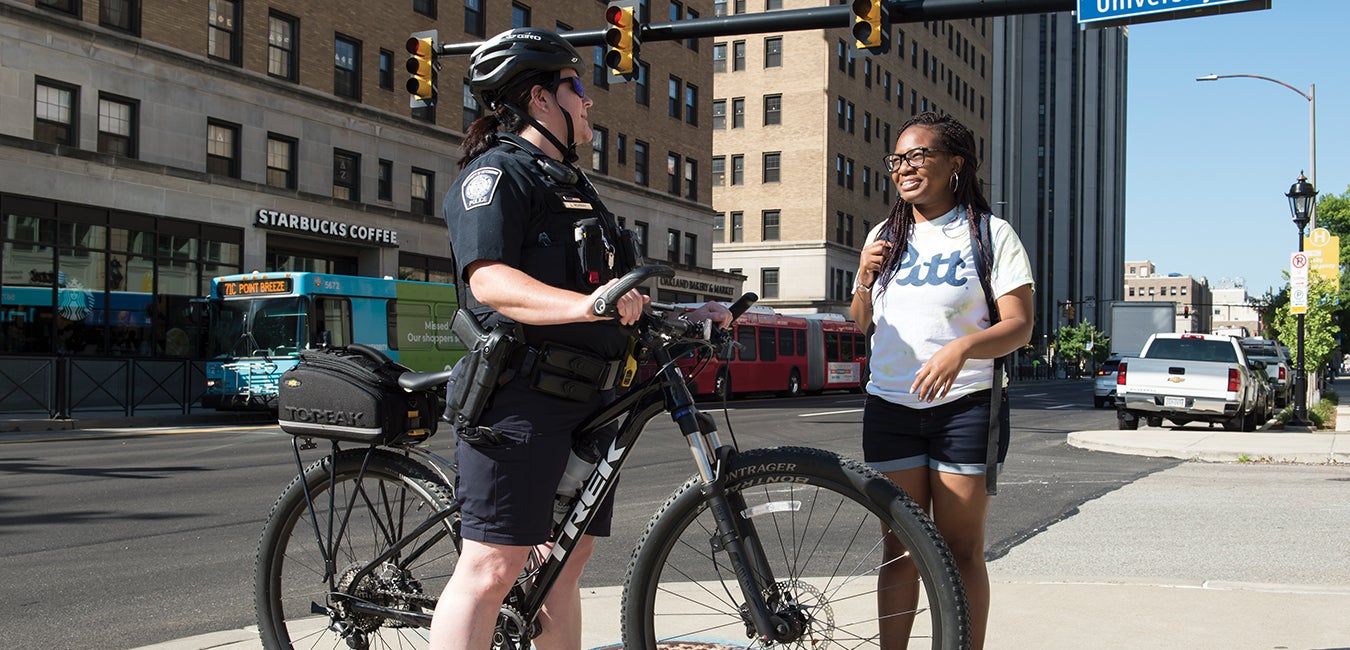 Prohibition of Sexual Assault, Harassment, Relationship Violence, and Stalking
The University of Pittsburgh values the safety and health of all members of the Pitt community and seeks to foster an environment in which its students and employees treat other persons with respect, civility, and dignity. Any behavior that involves sexual assault or harassment, relationship (dating and domestic) violence, or stalking of another person is prohibited. 
Such behavior may result in criminal charges if reported to the Pitt Police department and/or University disciplinary action if the Title IX Office investigates a complaint. The University will use these processes outlined in the Sexual Misconduct Policy to investigate and resolve reports of sexual assault, harassment, relationship (dating and domestic) violence, and stalking. In cases involving sexual assault, the University understands the victim may request confidentiality. In these situations, the University may not be able to honor a victim's request in order to provide a safe, non-discriminatory environment for all community members, including the victim. If the University honors the request for confidentiality, a victim must understand that the University's ability to meaningfully investigate the incident and pursue disciplinary action against the alleged perpetrator(s) may be limited.
Accused students or employees should know that the initiation of any University proceeding does not preclude the possibility of criminal charges. In fact, parallel University and criminal proceedings are not uncommon.
In addition to using these processes, the University will continue to engage in prevention programs and training for students, faculty, and staff in an effort to prevent sexual assault and harassment, relationship violence, and stalking. Pitt's Office of Sexual Harassment and Assault Response and Education (SHARE) provides counseling to victims of sexual assault, assists victims in obtaining medical care, and offers support in all aspects of the recovery process. The SHARE and Title ix offices also coordinate the University's educational programs and active approach to preventing sexual assault on campus.
More detailed information about these programs, processes, and procedures can be found in the Student Code of Conduct and at Title IX at Pitt.
What is Consent?
Consent is an informed, affirmative decision made freely and actively by all parties to engage in mutually acceptable sexual activity. Consent is given by clear words or actions and may not be inferred from silence, passivity, or lack of resistance alone. Existence of a current or previous dating, marital, and/or sexual relationship is not sufficient to constitute consent to additional sexual activity. Consent to one type of sexual activity does not imply consent to other types of sexual activity.
Someone who is unconscious, asleep, or otherwise mentally or physically incapacitated, whether due to alcohol, drugs, or some other condition, cannot give consent. Consent cannot be obtained by force, intimidation, threat, coercion, isolation, or confinement. Agreement obtained under such conditions does not constitute consent. 
Click here for definitions of sexual assault, dating violence, domestic violence, and stalking.
Consent under Title 18 of the Pennsylvania Crimes Code
a.    General rule: The consent of the victim to conduct charged to constitute an offense or to the result thereof is a defense if such consent negates an element of the offense or precludes the infliction of the harm or evil sought to be prevented by the law defining the offense.
b.    Consent to bodily injury: When conduct is charged to constitute an offense because it causes or threatens bodily injury, consent to such conduct or to the infliction of such injury is a defense if:
    1.    the conduct and the injury are reasonably foreseeable hazards of joint participation in a lawful athletic contest or competitive sport or
    2.    the consent establishes a justification for the conduct under Chapter 5 of this title (relating to general principles of justification).
c.    Ineffective consent: Unless otherwise provided by this title or by the law defining the offense, assent does not constitute consent if:
    1.    it is given by a person who is legally incapacitated to authorize the conduct charged to constitute the offense;
    2.    it is given by a person who by reason of youth, mental disease or defect, or intoxication is manifestly unable or known by the actor to be unable to make a reasonable judgment as to the nature or harmfulness of the conduct charged to constitute the offense;
    3.    it is given by a person whose improvident consent is sought to be prevented by the law defining the offense; or
    4.    it is induced by force, duress, or deception of a kind sought to be prevented by the law defining the offense. 
West's Pennsylvania Criminal Justice 2015 Pamphlet, Eagen, Minn.: Thomson Reuters, 2016
Prevention and Awareness Programs
The University has a comprehensive array of prevention and educational programs aimed at ending sexual assaults and harassment, relationship (dating and domestic) violence, and stalking that include the following:
Peer Education
There are two organizations with well-trained students that provide peer-to-peer educational programming.
SAFE (Sexual Assault Facilitation and Education)
Peer Educators, present workshops to students on various issues, including sexual assault awareness, University resources, and prevention and bystander intervention training. The programs are designed to provide students with the skills necessary to safely intervene when circumstances of sexual or interpersonal violence or stalking are about to occur or are occurring. Available programs include: Bystander Education Training, Let's Talk About SECCS (Students Engaging in Conversations about Consent and Sexuality), SAFE Masculinity, and Talk Dirty to Me, an interactive program that teaches about consent. studentaffairs.pitt.edu/share/get-involved
PantherWELL
PantherWELL Peer Health Educators, which is part of the Office of Health Education and Promotion, conduct health and wellness programs on campus, including programs that explore bystander intervention training, as well as various aspects of wellness and safety. Campus-wide sexual assault and consent awareness campaigns are conducted throughout the year—including the It's On Us campaign—to educate students about the issues surrounding sexual assault through distribution of videos, social media messaging, and creative advertising.
New and Transfer Students
Incoming students are required to attend the Tipping Point program during orientation week, where alcohol use and sexual misconduct are addressed in a direct manner.
Dating Violence Awareness Week
Special events and programming take place every October to draw attention to this issue.
Sexual Assault Awareness Week
A variety of programs occur each spring during Sexual Assault Awareness Week to reinforce the messages by engaging students in interactive events.
New and Ongoing Employee Education
Provided through both online and in-person modules, employees receive training on prevention and reporting at orientation and on an annual schedule.
University Police Seminars
Members of Pitt police are trained in responding to and investigating sex offenses, domestic violence, and stalking incidents. The Pitt police provide special programs on sexual assault and other safety issues to student groups upon request.
Community Speakers
Pittsburgh Action Against Rape and the Women's Center and Shelter also provided speakers for campus groups during the past year.
Bystander Intervention
First-year students are required to attend active bystander training, which plays an important role in helping to prevent sexual assaults and harassment. Some examples include:
speaking up when someone discusses plans to take sexual advantage of another person;
confronting people who seclude, hit on, or attempt to engage in sexual activity with people who are incapacitated;
calling police when a person is yelling at another and it is not safe for you to directly interrupt;
refusing to leave the area and calling police if a person is trying to get you to leave so they can take advantage of another; and
ensuring friends who are incapacitated do not leave the area with someone unknown        
Title IX 
The Title IX Office coordinates and offers a wide variety of ongoing trainings and educational programming. Please refer to Title IX at Pitt for further information.
Sexual Assault Task Force
This group of interested student leaders, staff, and faculty convenes monthly to discuss issues related to sexual assault, and to develop programs that can effect change and create a climate of safety on campus.
What to Do if You are Sexually Assaulted
Q    What should I do if I am sexually assaulted?
A    Many times, victims of sexual assault feel traumatized or blame themselves and are reluctant to seek help and proper medical care; it is not the victim's fault. If an individual has been the victim of sexual assault, dating violence, domestic violence, and/or stalking, or think they may have been, there are several options for reporting the incident and for obtaining the information, assistance, and support needed for all aspects of recovery, both emotional and physical.
Immediately After an Incident
Physical Safety: Your immediate safety is the top priority. As quickly as possible, find a safe place away from the perpetrator or any other potential danger. 
You are encouraged to seek immediate medical attention for your own physical health and to preserve all physical evidence. You can receive treatment at any medical facility; hospital emergency departments are in the best position to treat you and collect physical evidence. 
Contact the Police: You are strongly encouraged to call the Pitt Police department (412-624-2121) or the Pittsburgh Police at 911 and report the situation. 
Contact the University Counseling Center's Office of Sexual Harassment and Assault Response and Education (SHARE) at 412-648-7930 (8:30 a.m.–5 p.m., Monday through Friday) or 412-648-7856 (after 5 p.m. and on weekends). SHARE will advise victims of reporting options, can guide students through the process of receiving a medical exam, and will assist victims in notifying campus or local police authorities if desired.
Sexual Assault Reporting FAQs
Q    Does contacting the police mean I have to press charges?
A    No. You have the right not to press charges if you call the Pitt Police. However, in the event of a safety concern to the victim and/or campus community, Pitt Police have an obligation to investigate. Pitt Police will report any Title IX incidents to the Title IX Office in the Office of Diversity and Inclusion. 
Q    If I report a sexual assault, will my name become public? What happens to the information?
A    Security personnel will file an anonymous record of any on-campus assault among Pitt's crime statistics in order to give an accurate representation of crime on campus and to help prevent further crimes of this nature.
Q    Do I have to get medical attention?
A    Although you are not required to seek medical care, it is highly encouraged. Taking care of your physical and medical state is an important role in the healing process. You may have internal or external injuries as a result of an assault that require medical care. Additionally, you may want to explore options for preventing sexually transmitted infections (STIs) and/or pregnancy. The Student Health Service has staff that can confidentially assess pregnancy risk; test and treat for STIs; and assess, treat, and/or offer/give referrals for physical injuries.
Reporting Options
Several options are available for you to report sexual misconduct, including relationship (dating and domestic) violence, sexual assault, and stalking.
You may file a complaint with the University's Title IX coordinator or any member of the Title IX Office. This office generally investigates complaints of sexual misconduct against faculty, teaching assistants, graduate student assistants, and staff, as well as students. You may contact the Title IX Office at titleixcoordinator@pitt.edu or 412-648-7860.
 
You may file a report through the Bias Report System on the Office of Diversity and Inclusion website at diversity.pitt.edu/make-report.
 
You may file a criminal complaint by contacting the Pitt Police (412-624-2121) or the Pittsburgh Bureau of Police (911).
 
Although the University encourages complainants to make formal reports as outlined above, you may file an anonymous complaint on the University of Pittsburgh Police Department website at police.pitt.edu/anonymous-tip-line. Anonymous reports greatly limit the University's ability to respond to and investigate the report.
Preserving Physical Evidence
In the aftermath of a sexual trauma, although it may not be foremost on your mind, the preservation of evidence is strongly encouraged. Even if you do not think you want to pursue a criminal or civil proceeding, preserving evidence keeps your options open in case you change your mind. To preserve evidence, do not shower, douche, or change clothes or bedding before you seek medical attention. Also, if oral contact took place, do not brush teeth, smoke, or eat. Optimally, evidence collection should occur within 72 hours of the assault, and there are medical facilities in Oakland that can assist you: 
Magee-Womens Hospital of UPMC, Emergency Room, 300 Halket Street, 412-641-4933
UPMC Mercy, Emergency Room, 400 Locust Street, 412-232-8111
Magee-Womens and Mercy are staffed with sexual assault nurse examiners, registered nurses who have completed specialized education and clinical preparation in the medical forensic care of the patient who has experienced sexual assault or abuse. Hospital emergency rooms are best equipped to collect physical evidence of a sexual assault. Your best source of immediate medical help is the nearest hospital emergency room. All hospitals are required by law to report to the police any injury that is the result of a crime. This does not obligate you to file formal charges. Completing a forensic exam does not require a victim to talk to police or prosecute the offender.
Students who have experienced sexual assault can get a forensic medical exam free of charge. You may choose to have your insurance billed or Pennsylvania's Victims Compensation Assistance Program will cover the costs.
Counseling and Medical Services and Other Available Support
Seeking emotional support in the aftermath of sexual violence is very important for recovery. Pitt's Office of Sexual Harassment and Assault Response and Education offers specialized counseling services designed to assist students who have experienced sexual assault, dating violence, domestic violence, harassment, and stalking. The office also can assist with referrals to specialized counseling services off campus. Additional counseling resources include the University Counseling Center (412-648-7930) or (412-648-7856) and Pittsburgh Action Against Rape (1-866-363-7273).
Student Health Service
Pitt's Student Health Service provides ongoing confidential medical treatment for any physical problems related to an assault. The Student Health Service can assess for pregnancy risk; test and treat for sexually transmitted diseases; and assess, treat, and/or offer/ give referrals for physical injuries. Student Health Service is located in the Wellness Center in Mark A. Nordenberg Hall, 119 University Place, 412-383-1800.
Additional Resources
Pitt students can contact their resident assistant, resident director, or other residence life staff member for support (available 24 hours a day). 
Any member of the University community also may contact the Office of Diversity and Inclusion at 412-648-7860 or titleixcoordinator@pitt.edu to report sexual misconduct or seek resources.
Warning Signs of Abuse
No victim is ever to blame for being assaulted or abused. Below are some warning signs of potential abusive behavior:
Being isolated from friends and family 
Watching what you say to avoid a "blow-up"
Hiding bruises or injuries from family and friends
Being afraid of your partner
Being forced to do things that you don't want to do
Having your partner monitor where you go, what you do, and who you meet
If you do not want to call the police after an incident but feel the need to leave the current environment, Pitt's SafeRider program may be able to offer you transportation back to your residence by calling 412-648-CALL (2255). More information about SafeRider here. Community resources include Pittsburgh Action Against Rape at 1-866-363-7273 (answers 24 hours a day) and the Women's Center & Shelter of Greater Pittsburgh at 412-687-8005 (answers 24 hours a day). Both groups provide an advocate/escort to accompany victims through the medical and/or legal process. Students who seek assistance from these organizations are not obligated to press charges against the assailant.